December 2008 :

Thursday morning I loaded up the 'photovan' for a tour of Northland at the top of New Zealand [ more pictures here http://s107.photobucket.com/albums/m...wns/Northland/. If I load it the day before I can't sleep properly so now I load it on the day I leave :smile: . My first stop was this shed - taken from the van which may explain the tilt , unless it was the angle of the shed that made me lean .....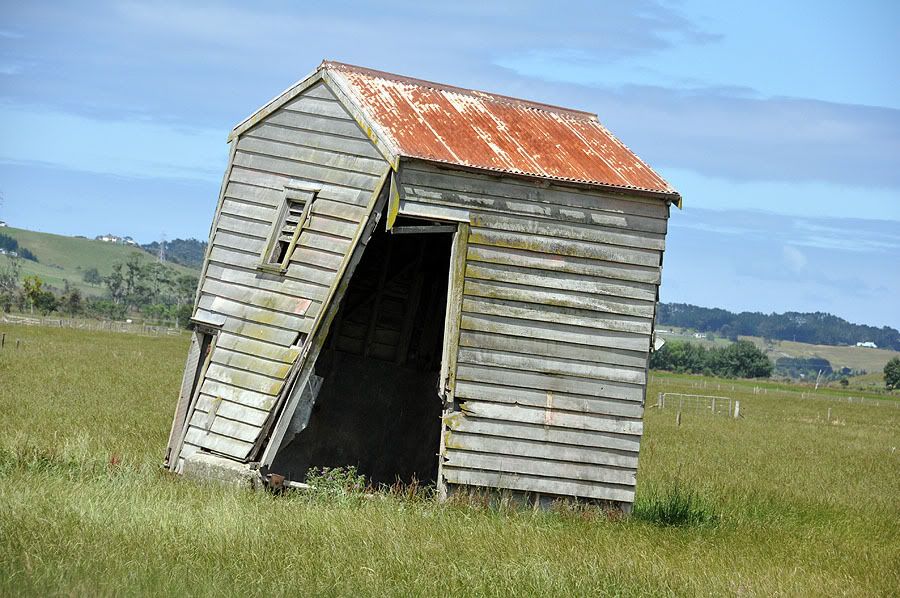 then I noticed evidence of a plane crash in the other direction ....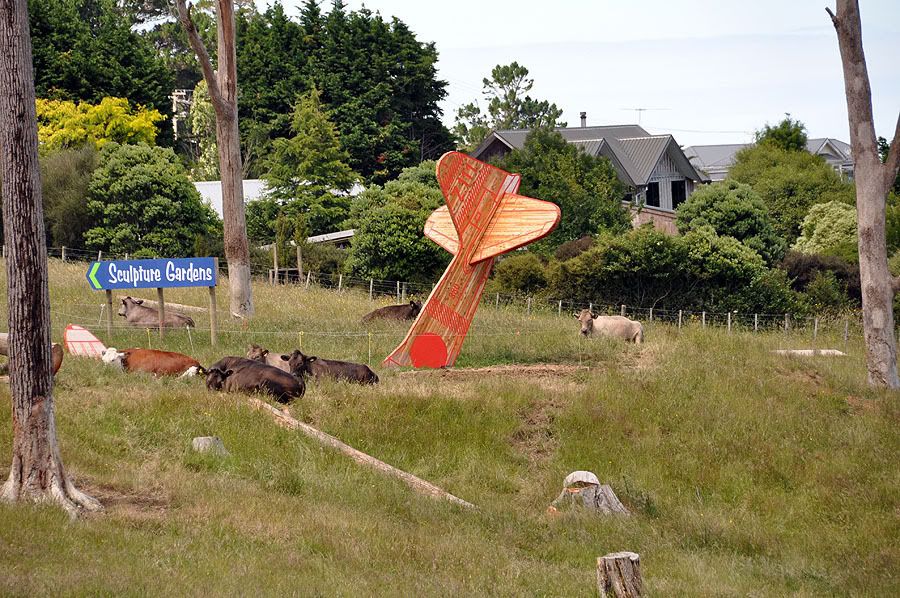 I liked the look of this building as well [Dargaville ].




When I got to Ripiro beach I had contemplated driving up the beach instead of the main road . This beach and "90 mile beach " are long flat beaches where cars and tour buses drive regularly . I parked the van and took a walk to check it out .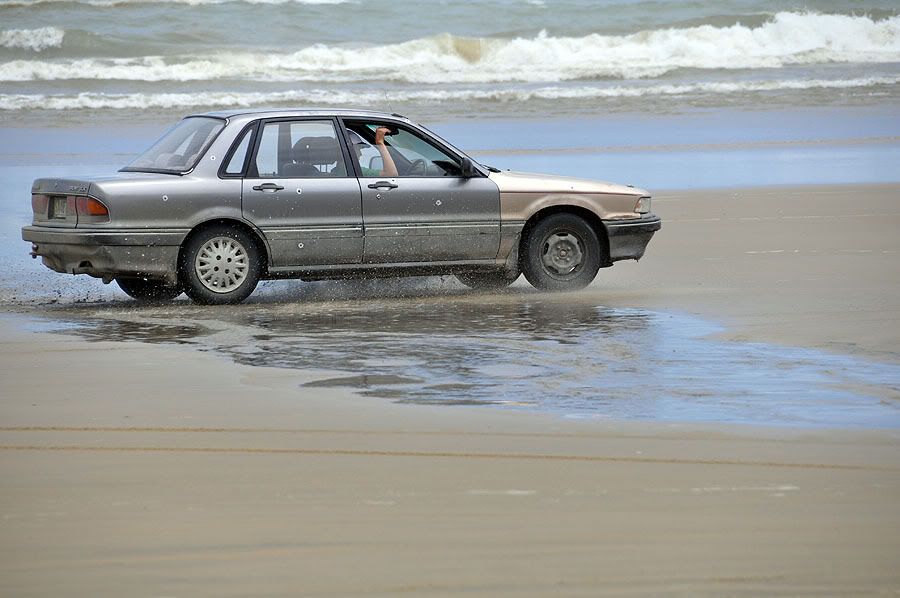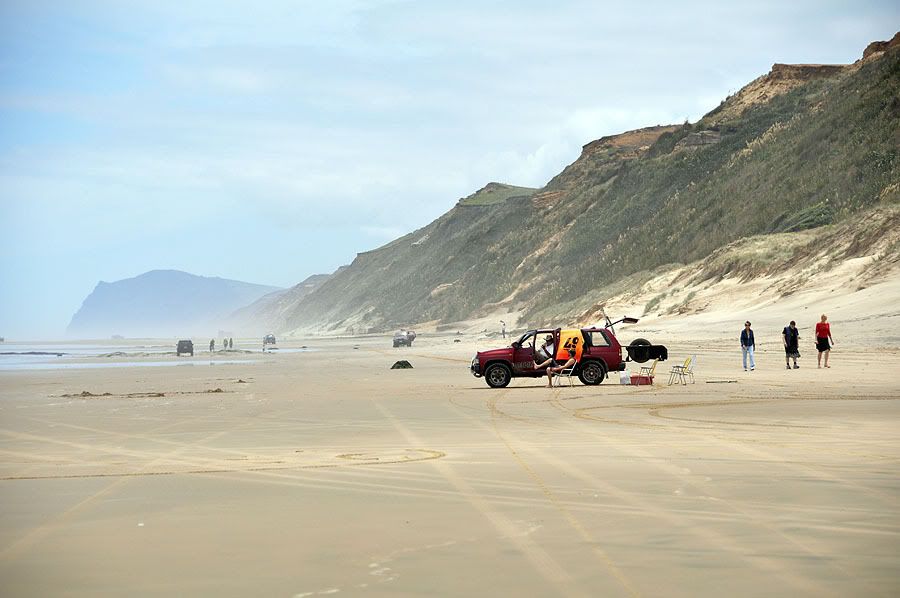 I decided that I didn't want the worry of knowing the underneath of my van could be coated with salt water and continued on the main road
I took the smaller back roads and came across a sign to the "Kai iwi lakes " and decided to head there . I decided the campsite looked 'acceptable' despite the lack of hot water .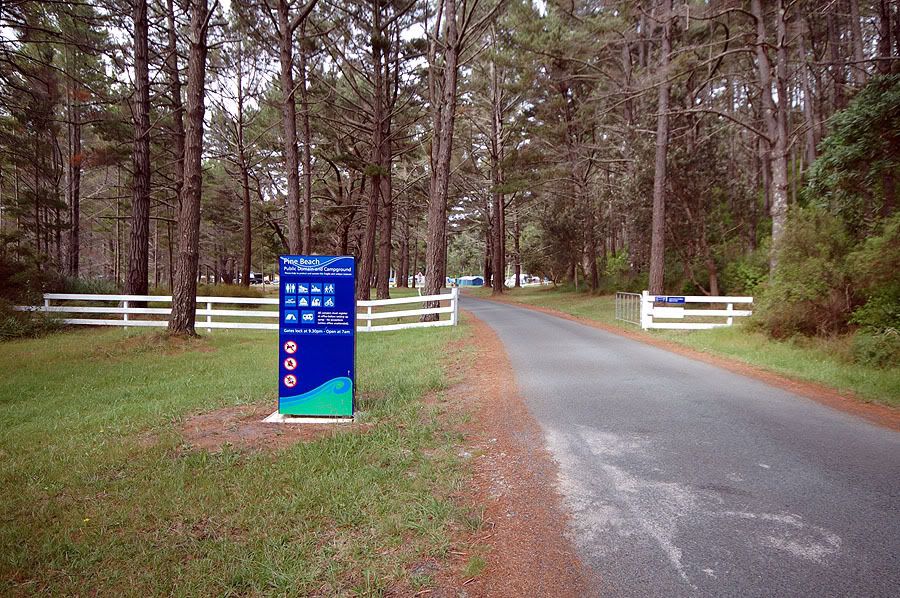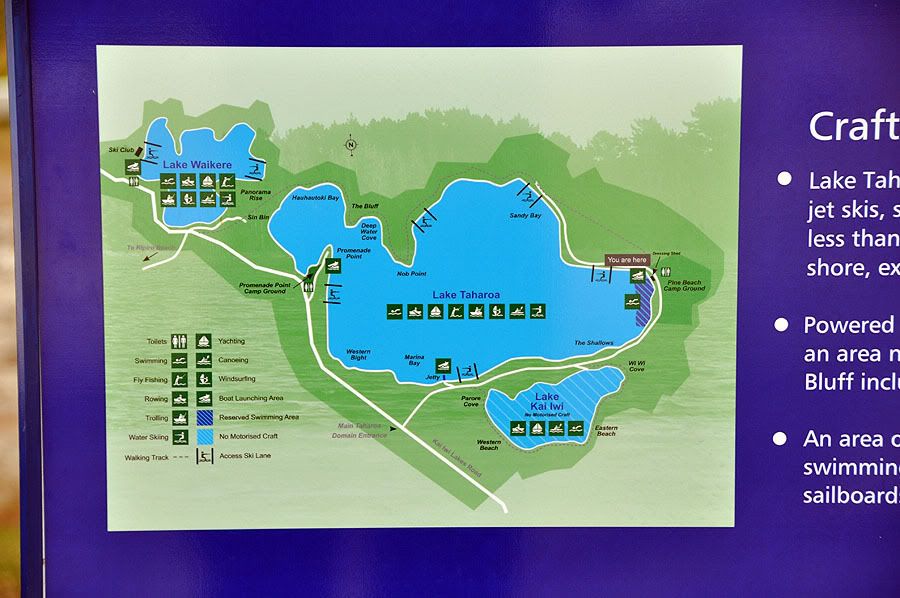 My ankle still hasn't recovered after falling off a rock while photographing a wedding last saturday but I decided to exercise it and take a walk/limp to this pond full of dead branches .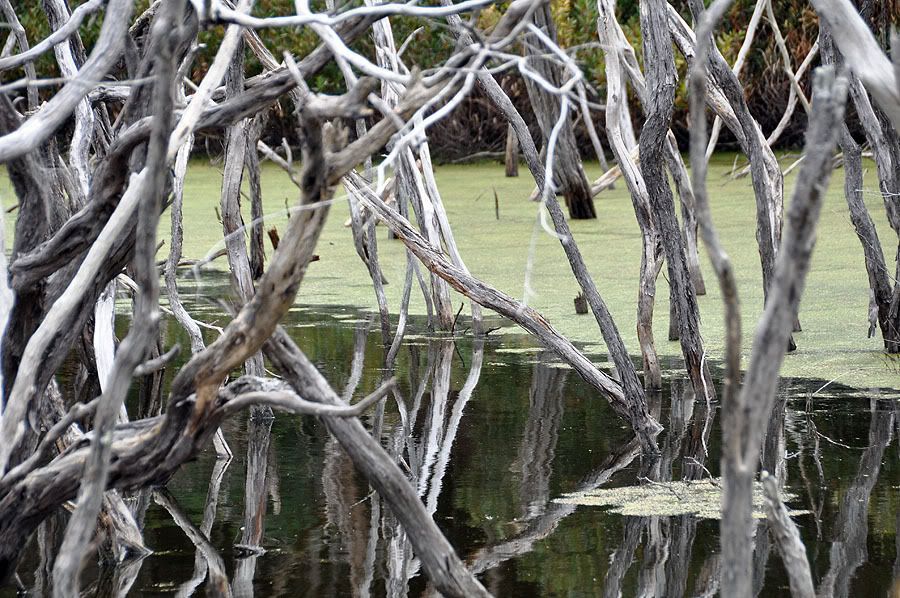 I managed to hobble all the way to the top of the lookout , this is the view back to the campsite .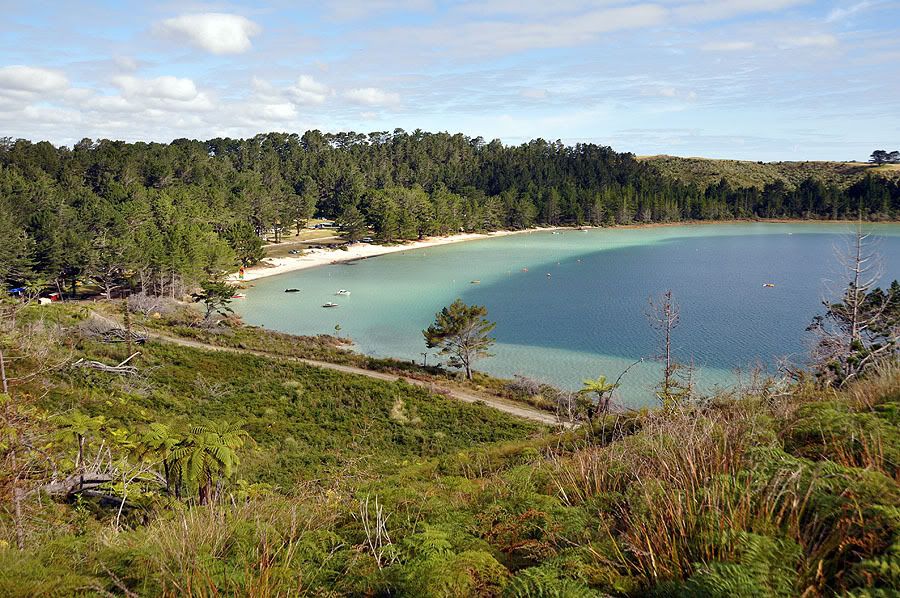 There is a large shallow area of water that's warmed by the sun and so I had no real excuse not to take a dip - it was either that or a cold shower - if you venture too close to the deeper part the water gets freezing cold . While I was up there I saw this couple taking advantage of a photo opportunity of their pram 'stuck' in a pool of water .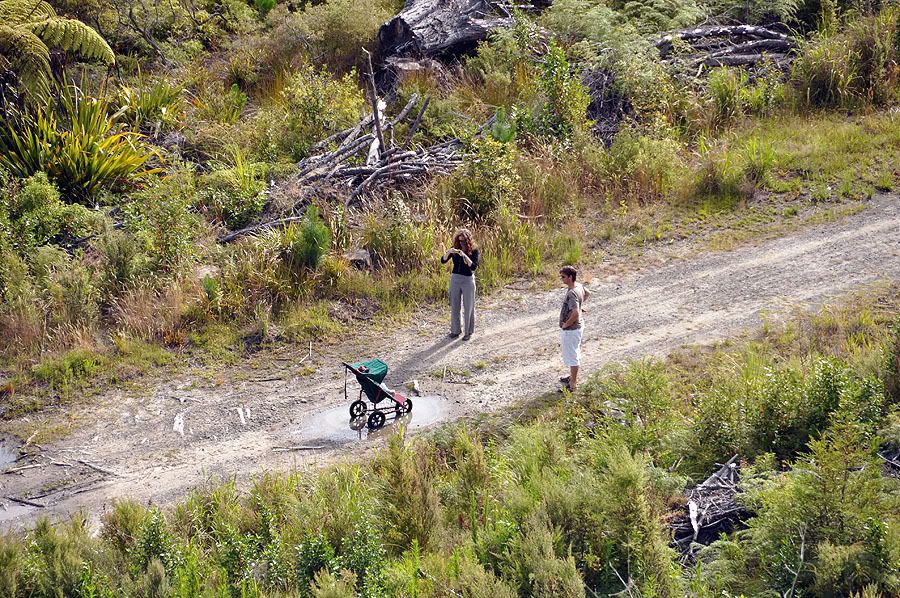 Then the sun started to go down and the colours started changing .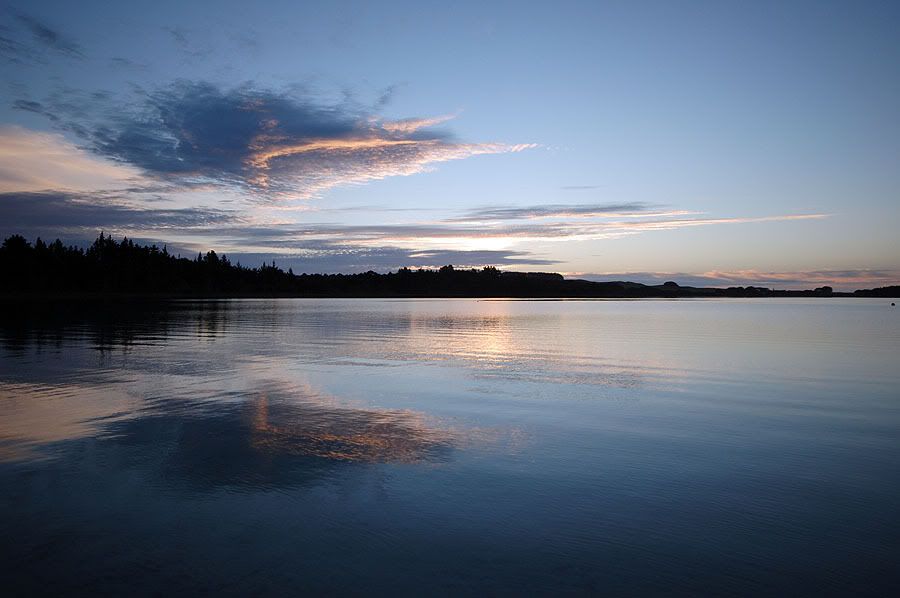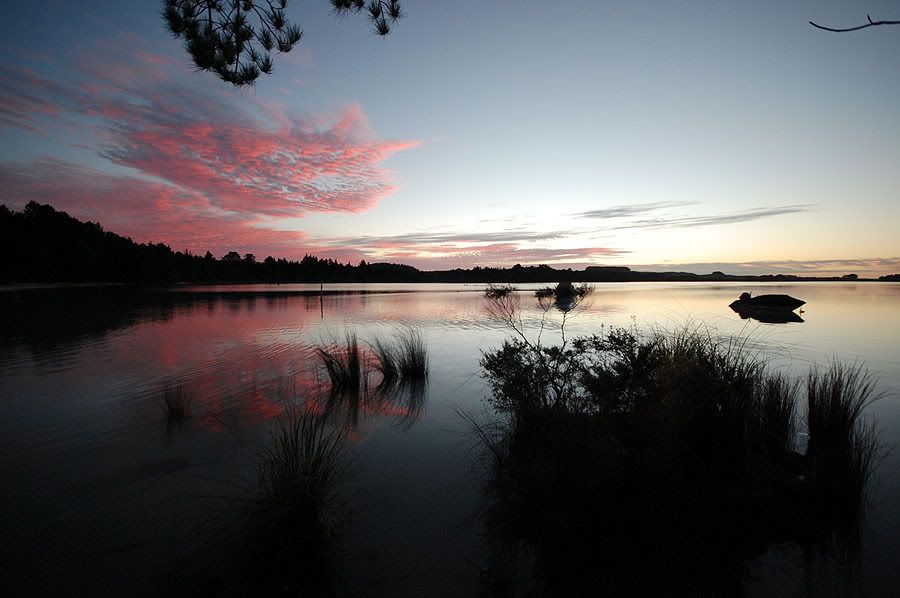 And that was the end of day one ......
Day two , first stop "Omapere" .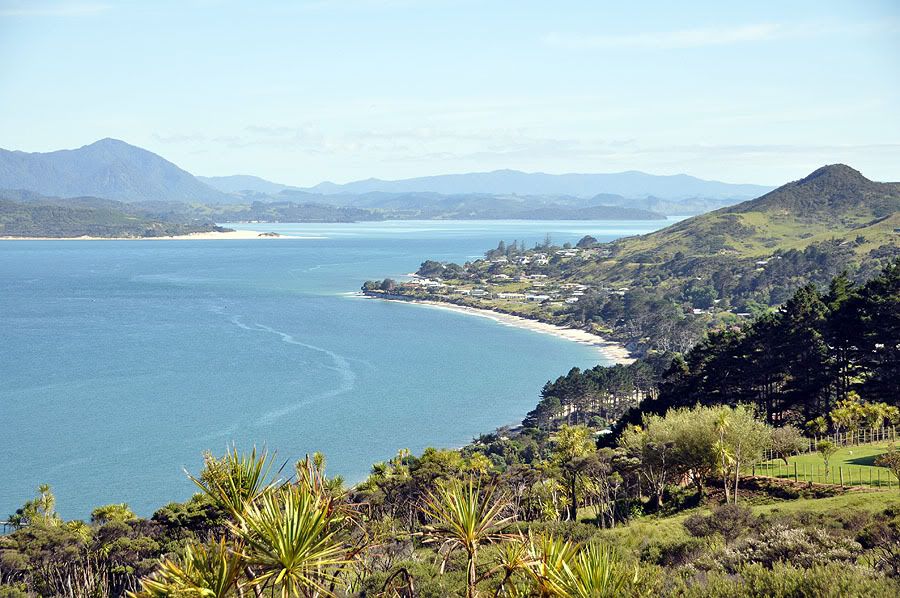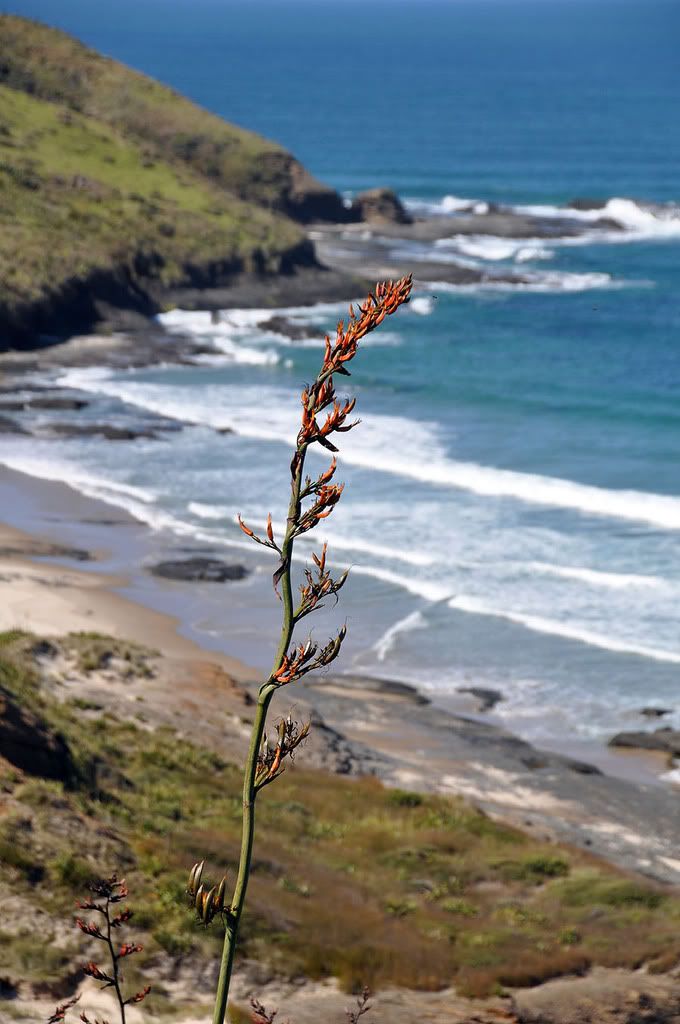 When I finally got to 90 mile beach I was still contemplating whether I should be adventurous and drive up the beach because I noticed a few 'car wash' places along the way where I could clean my van afterwards but then I saw this sign .




and decided to leave it for the 4X4's .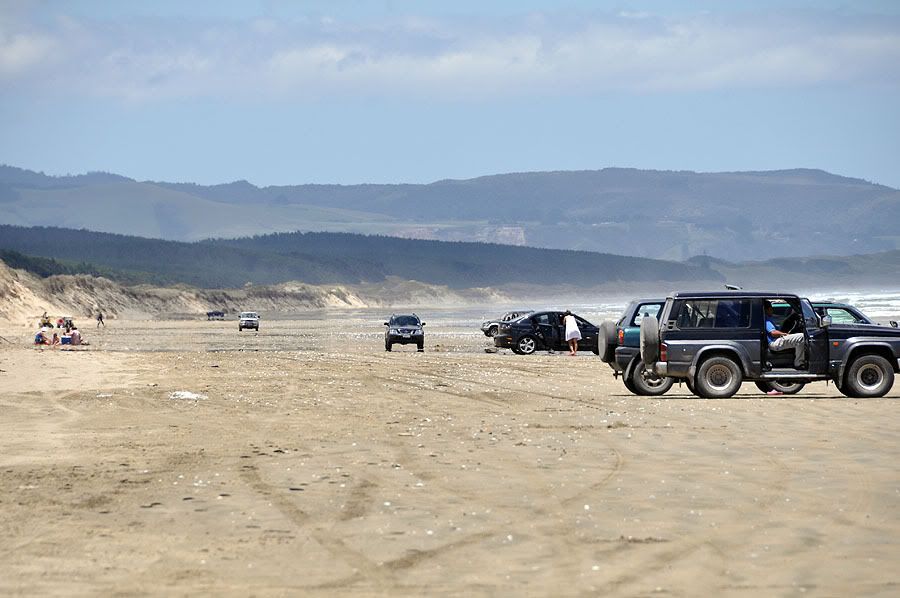 I liked the look of these trees as I carried on towards Cape Reinga -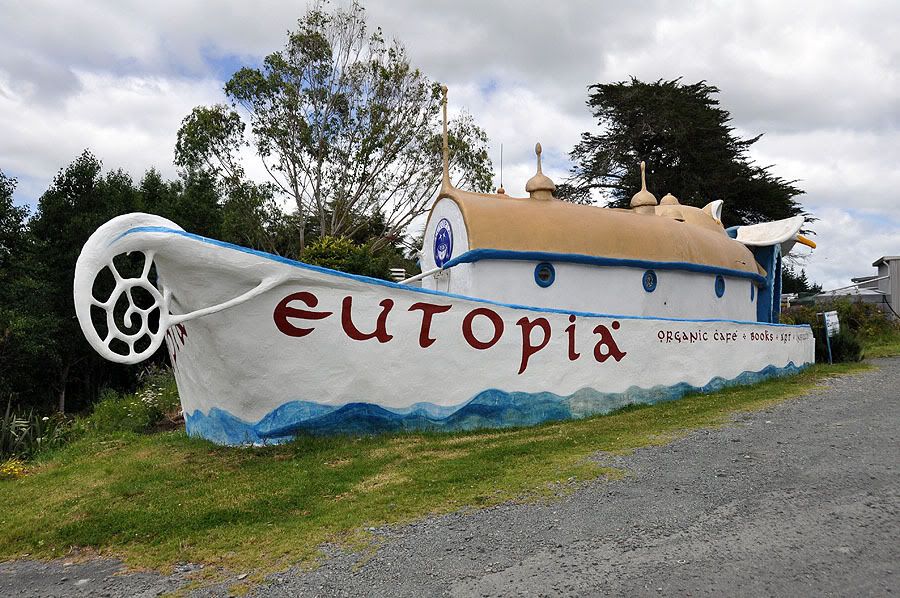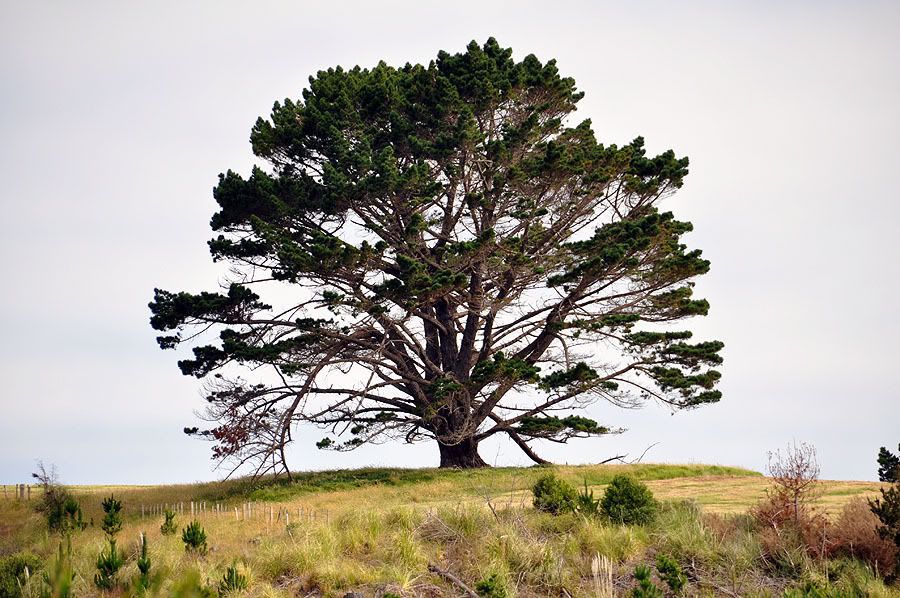 I did have pretty good weather the first two days . One of the reasons I don't like driving on the beach is that it destroys a fair amount of life below the surface as well - they are apparently planning on banning it totally in the future .
The weather was still good when I got to Cape Reinga - my van loves those gravel roads- I overtook quite a few cars driving like old ladies on that last bit of road ....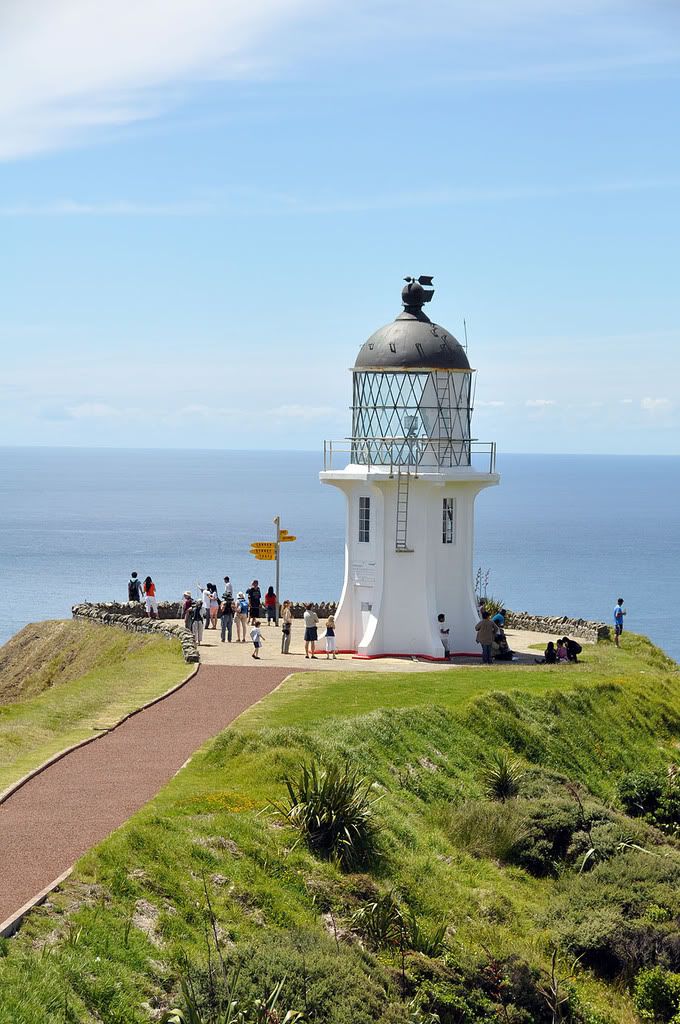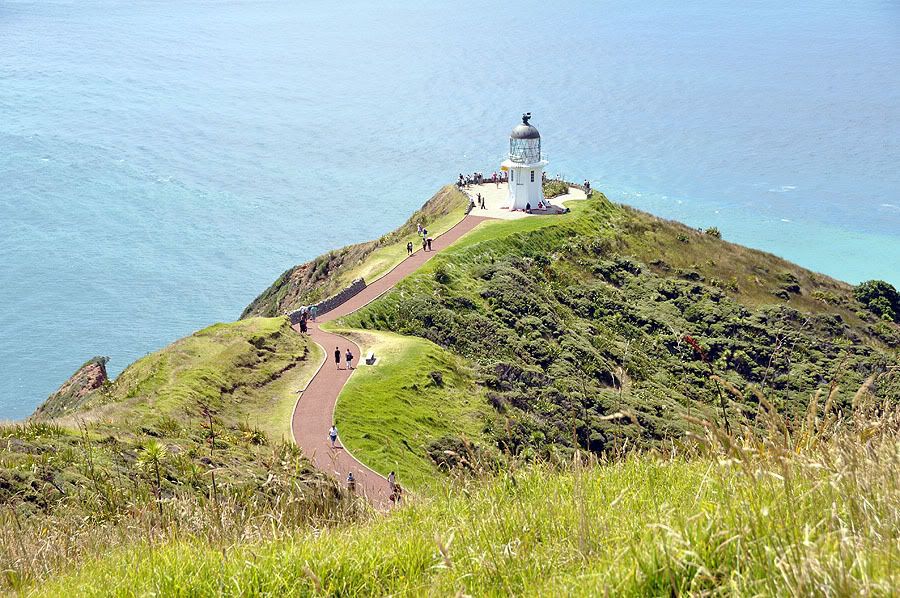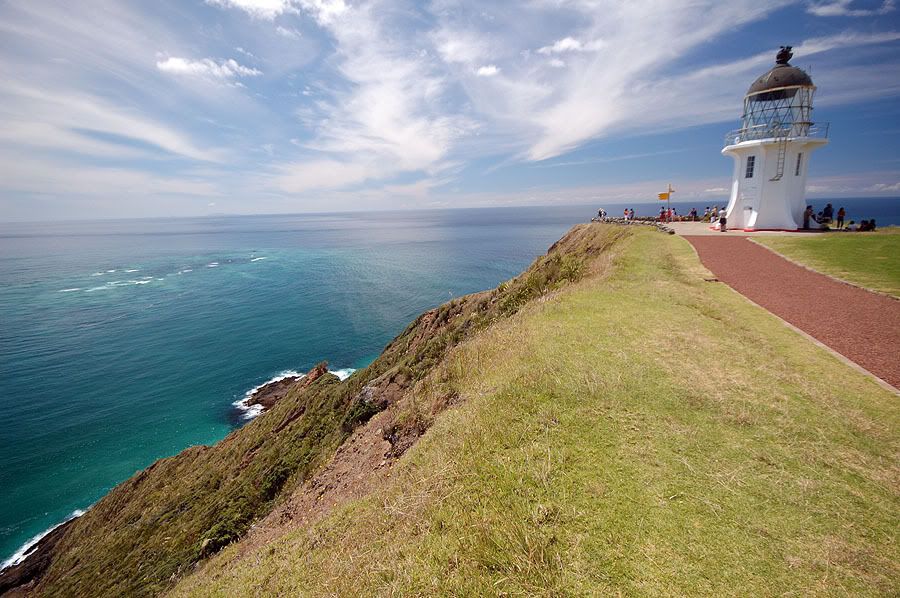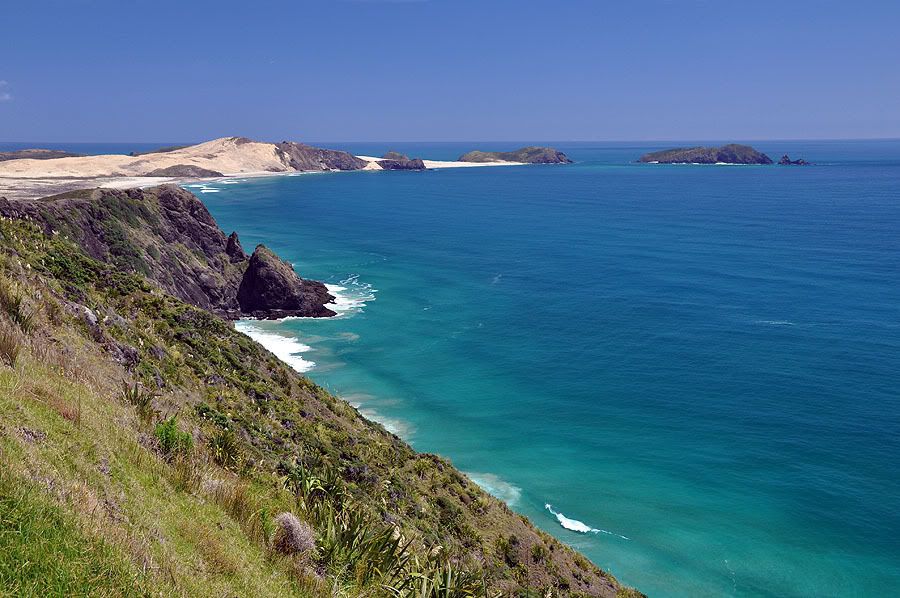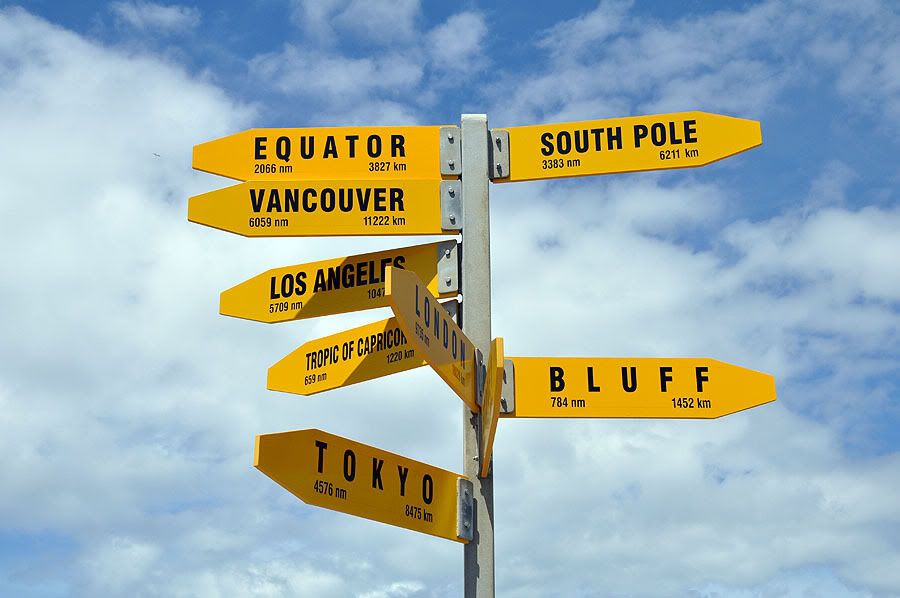 There's normally quite a trail of people walking to the lighthouse .....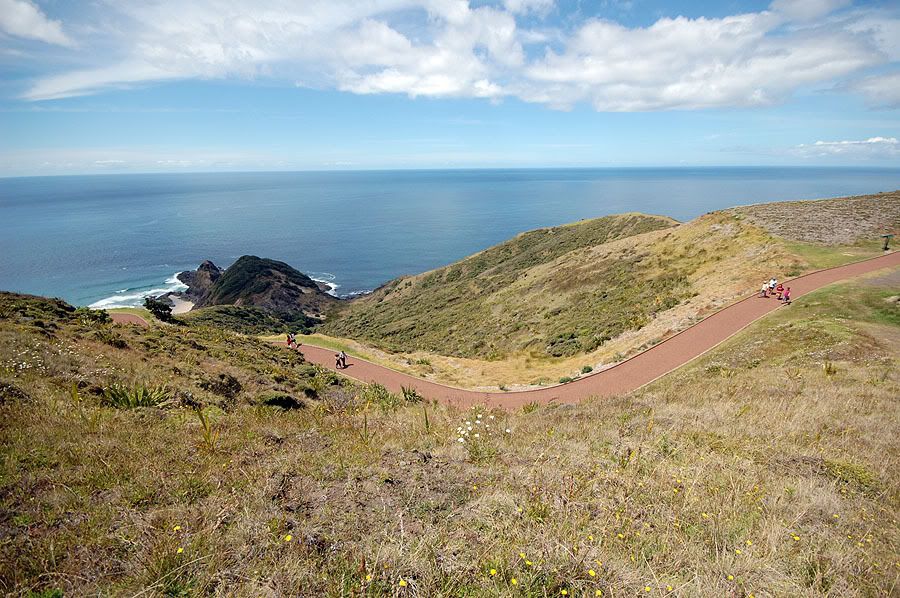 Then , on the advice of someone I met the previous night I headed for Spirits bay which supposedly had good scenery . It was ok when I got there so I set up the photovan - this was an evening shot - watching a movie while I wait for the sunset .....


This hill and its reflection were showing a bit of promise for later pictures .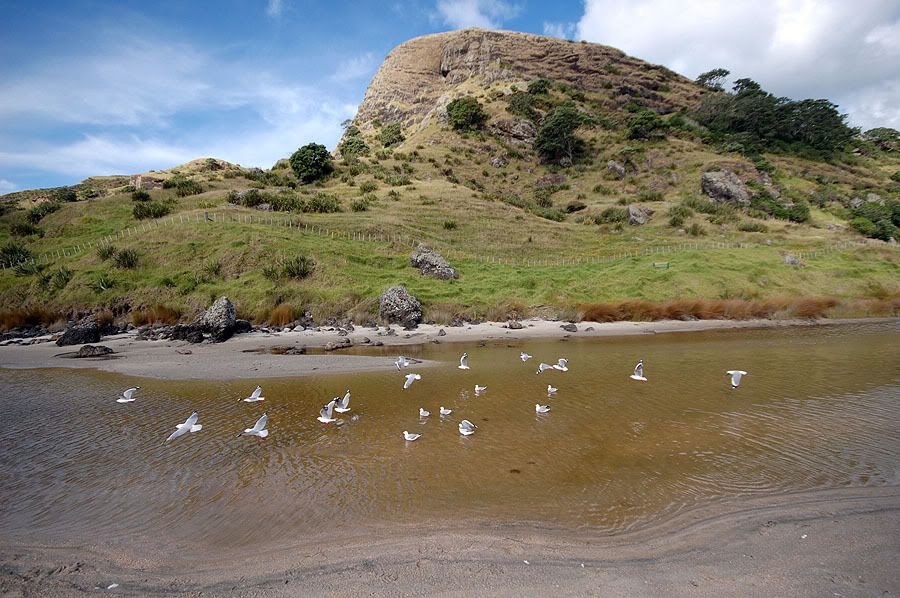 like this .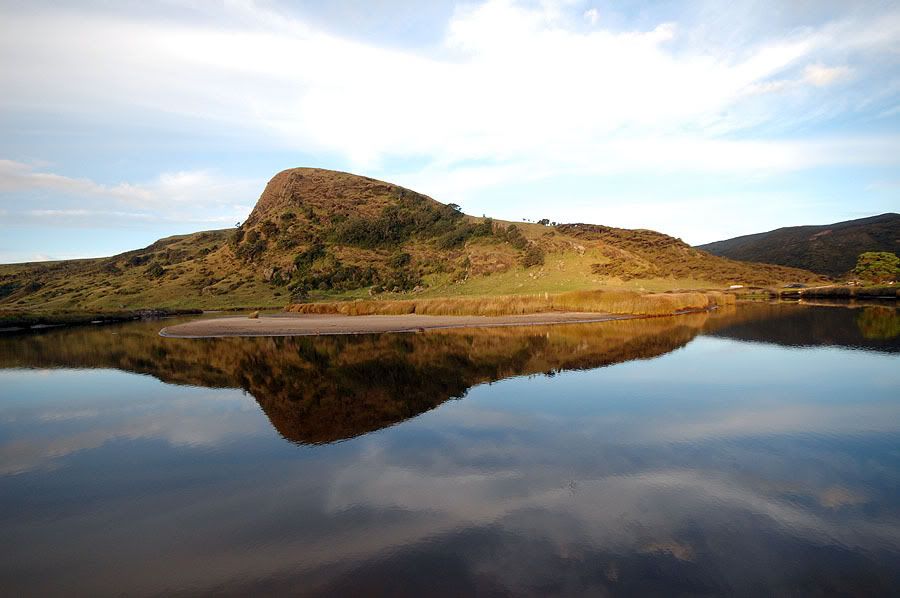 and this ...


as people gathered to wait for the sunset .


and the clouds formed a circle around the exact spot the sun was going down .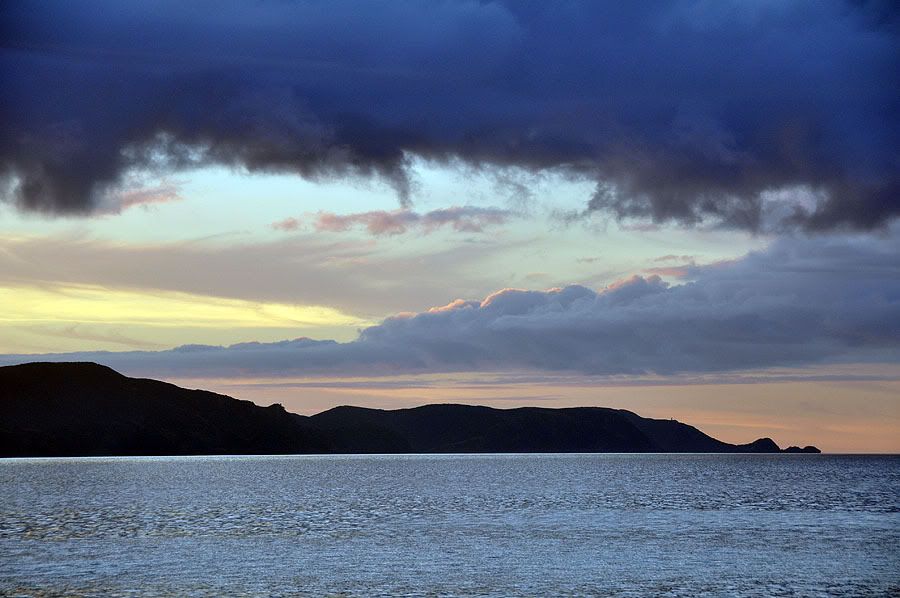 and the setting sun painted them from the inside ....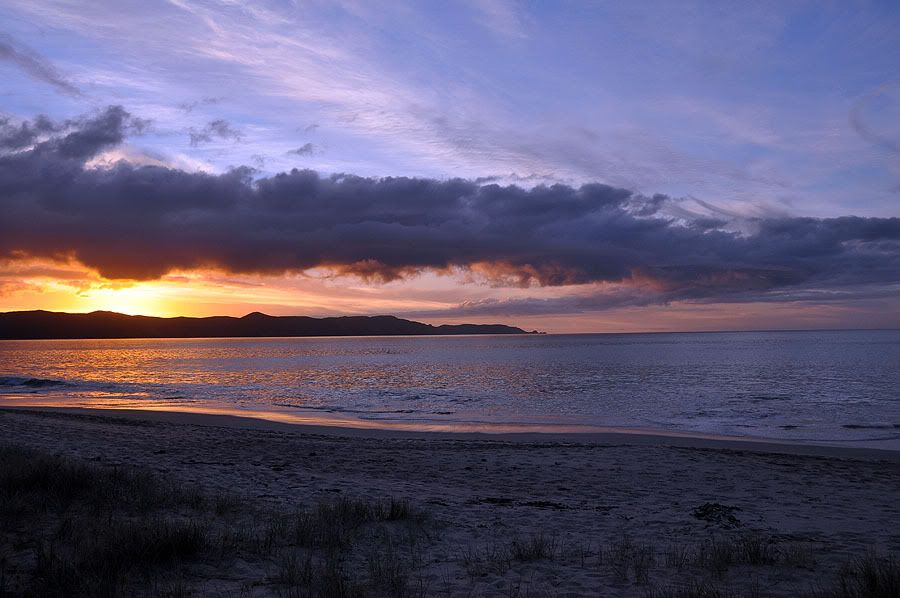 But I'm getting ahead of myself now - there were a few other shots I got before the sunset ....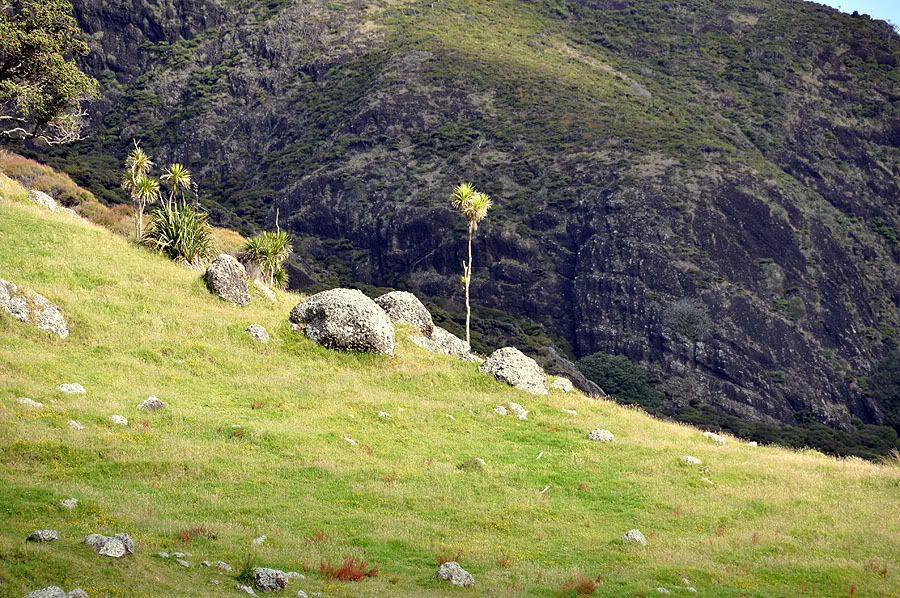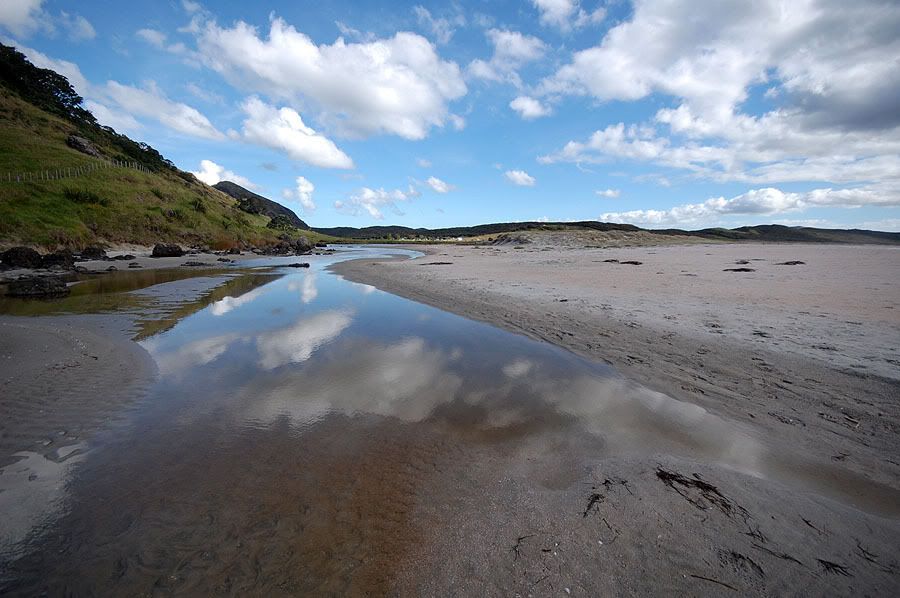 And to me this is a mixture between a seal and a bird trying to break open a shellfish of some sort ......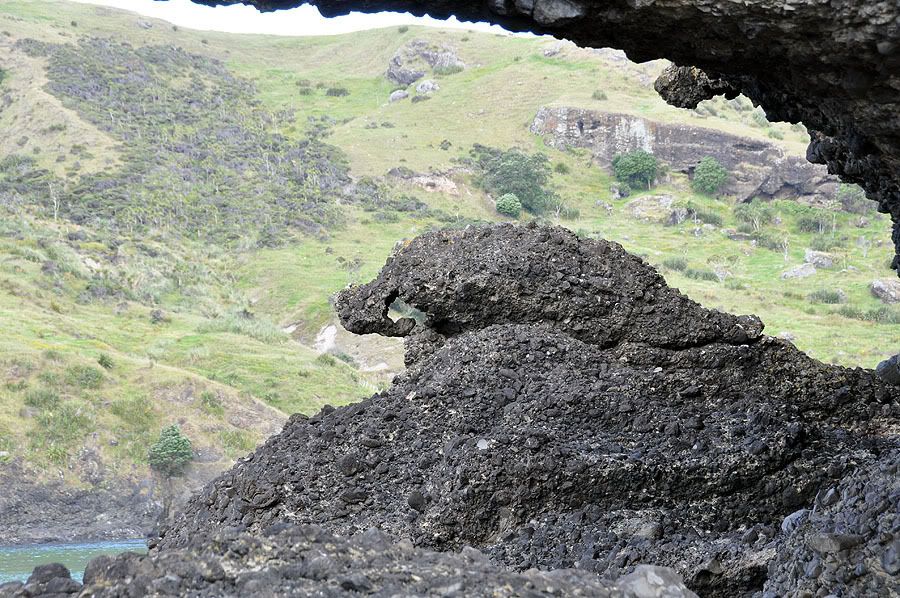 I was interested in this dinosaur head sticking up and got closer to see if it was rock or wood .Then I saw the little 'bowl' behind it and remembered why it's called Spirits bay - something to do with people buried a long time ago ....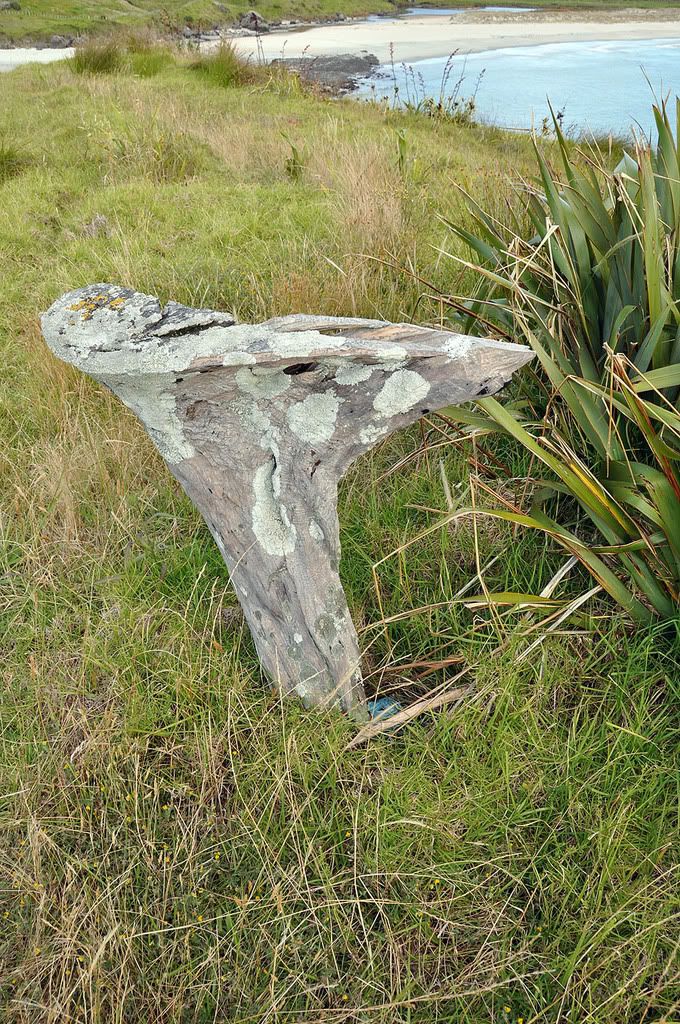 Day three I headed south again for KeriKeri where the oldest building in the country is situated - the old stone shop which is also a popular tourist destination that sells some interesting items [ including 3 legged cooking pots made in South Africa ' potjie pots' as they call them ].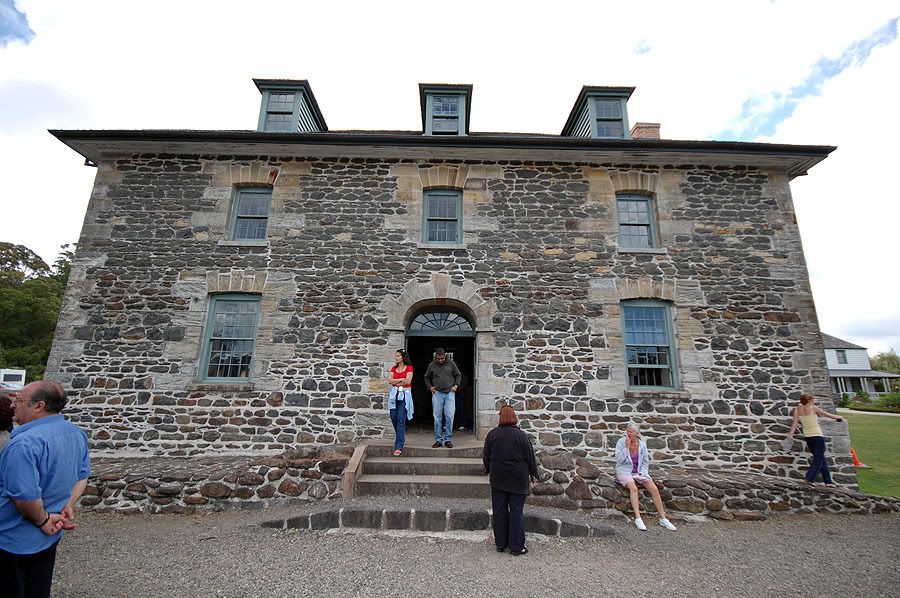 The 10-20mm lens was useful for getting close to eliminate all the people clustered around it .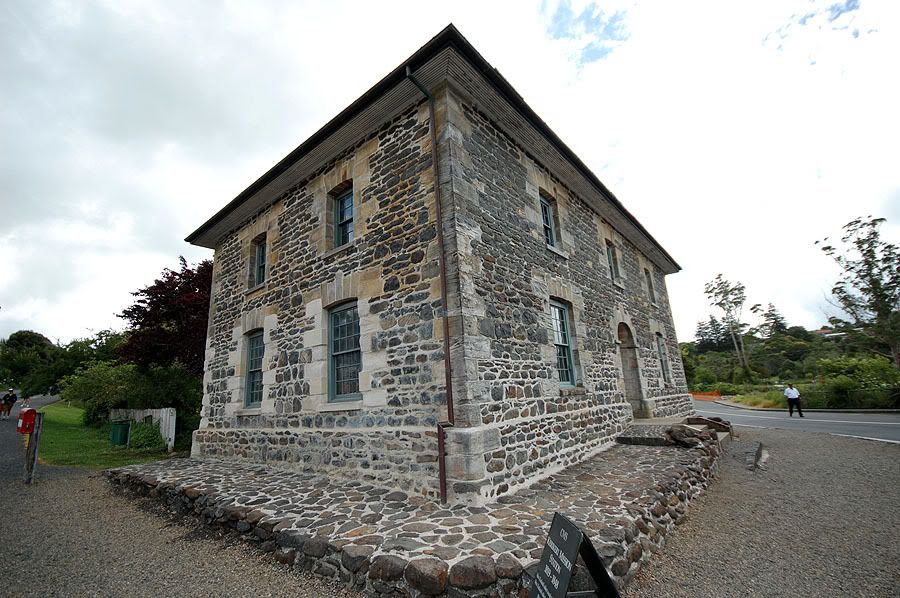 Not to mention all the tourist buses .


But that was only after driving past various bays .....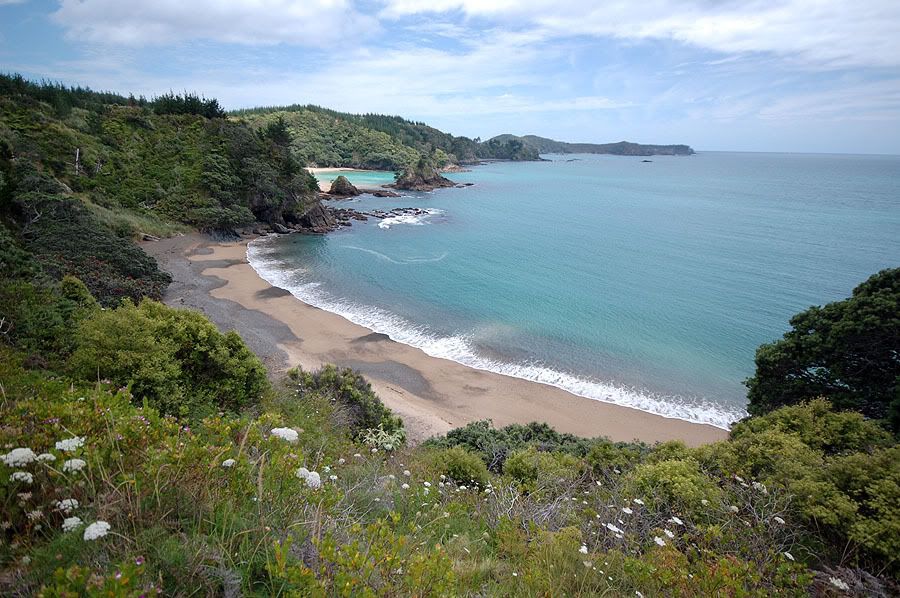 stopping at various beaches .....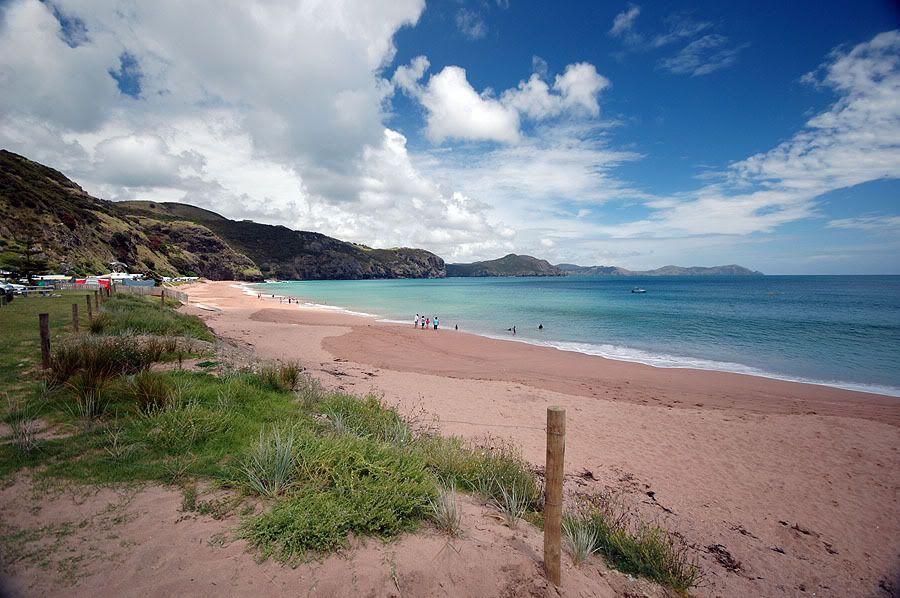 more boats ....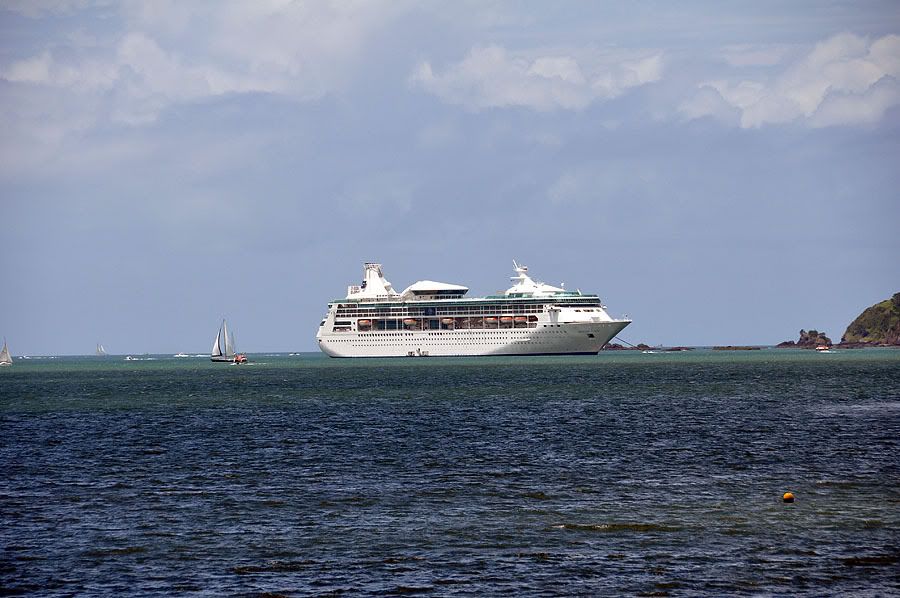 all this after driving past "Kauriland" [ I'm doing things a bit backward now ] at Awanui where they have crafted furniture out of Kauri trees supposedly buried for 45000 years . I parked the van next to one of the smaller trees to compare size ....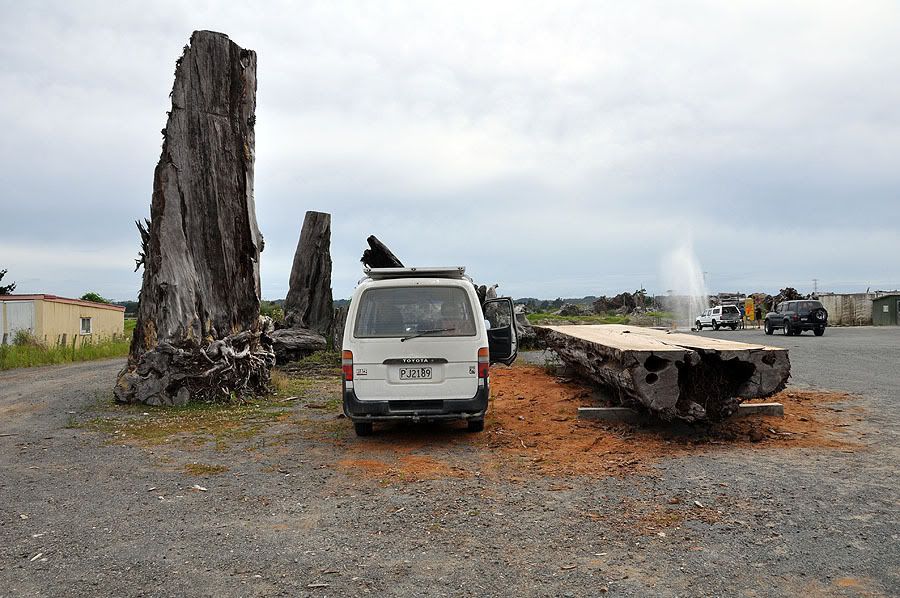 Inside I found this couch that could be bought for $120 000


And then there was this spiral staircase carved out of the middle of a tree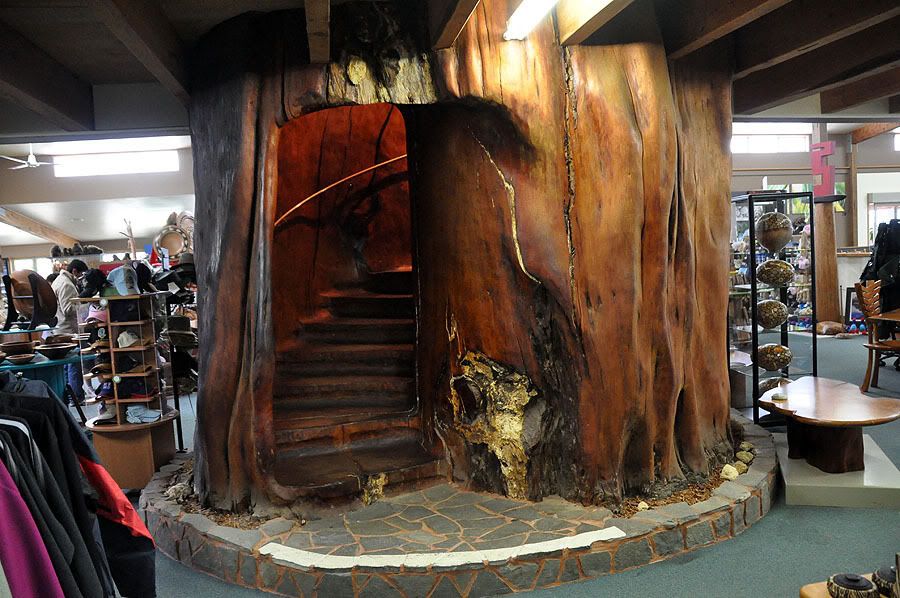 There wasn't a price tag on it


flowers and boats .....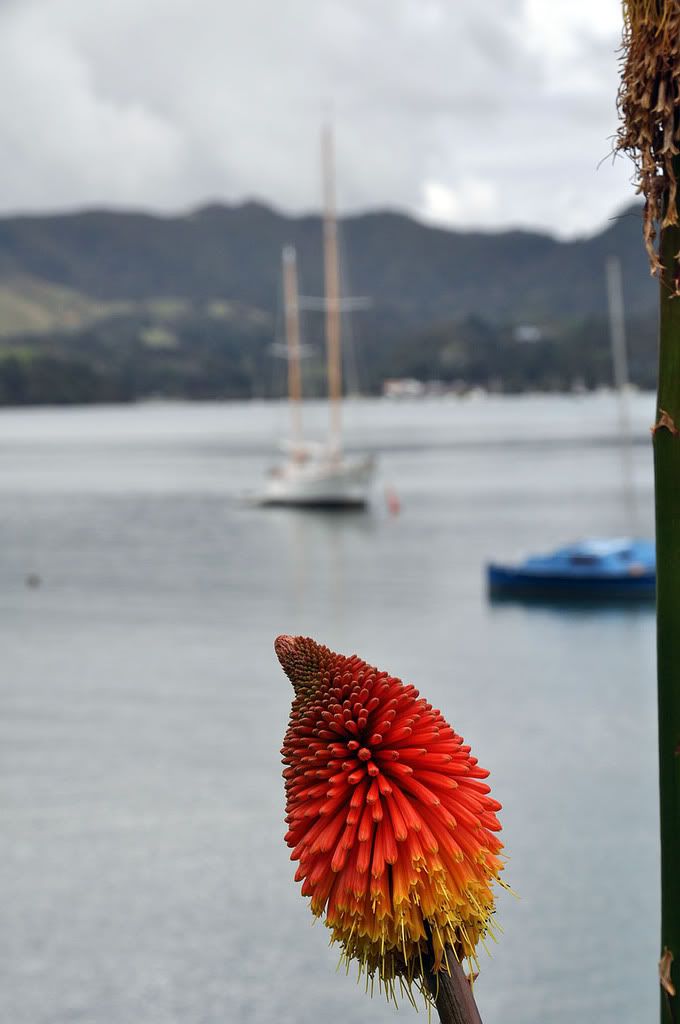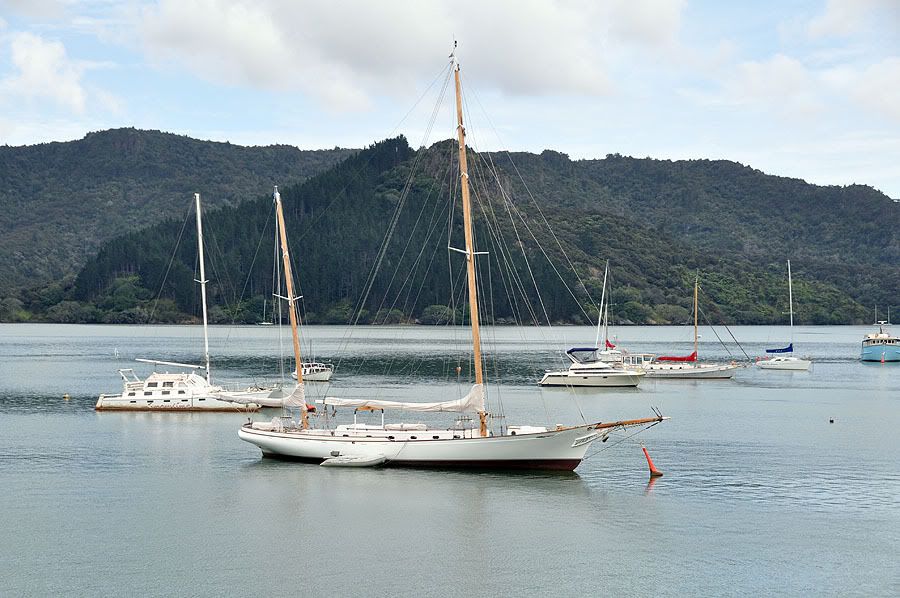 more 'charismatic sheds '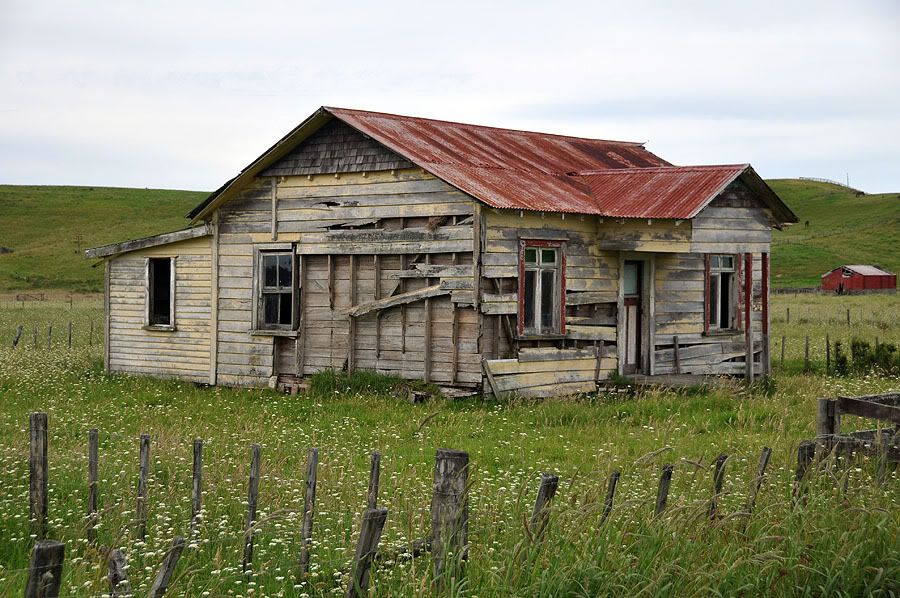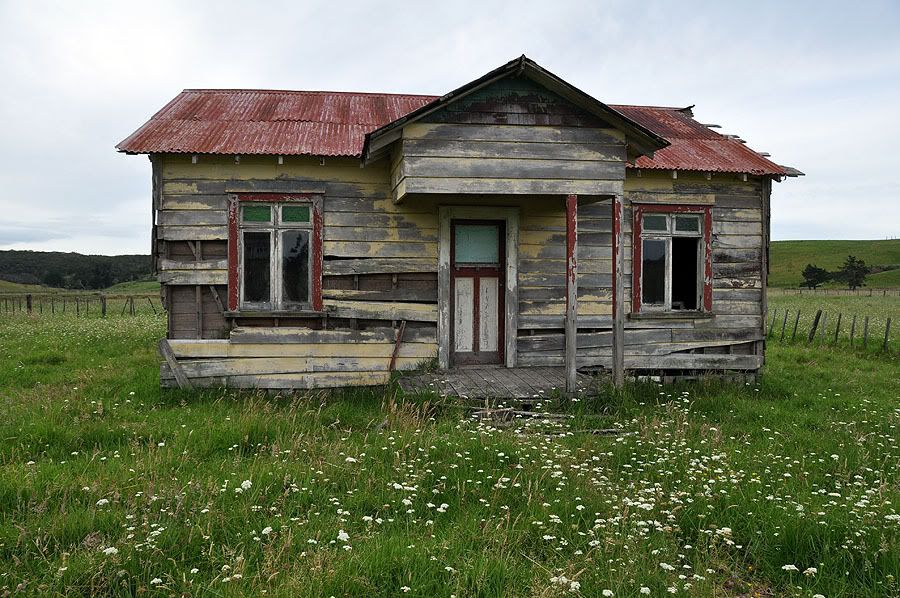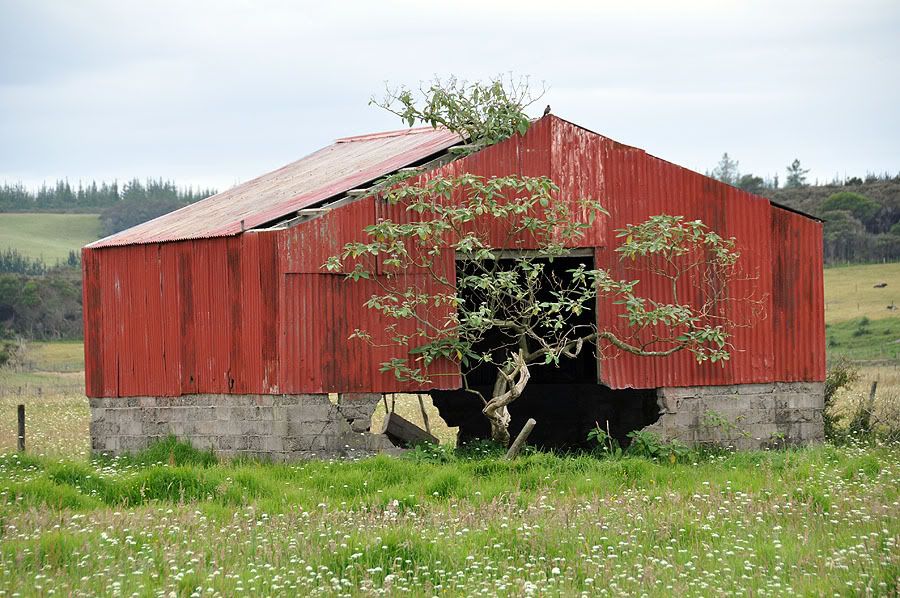 Anyway , after Kerikeri I headed for Paihia and went past Hararu falls 3km out of town ....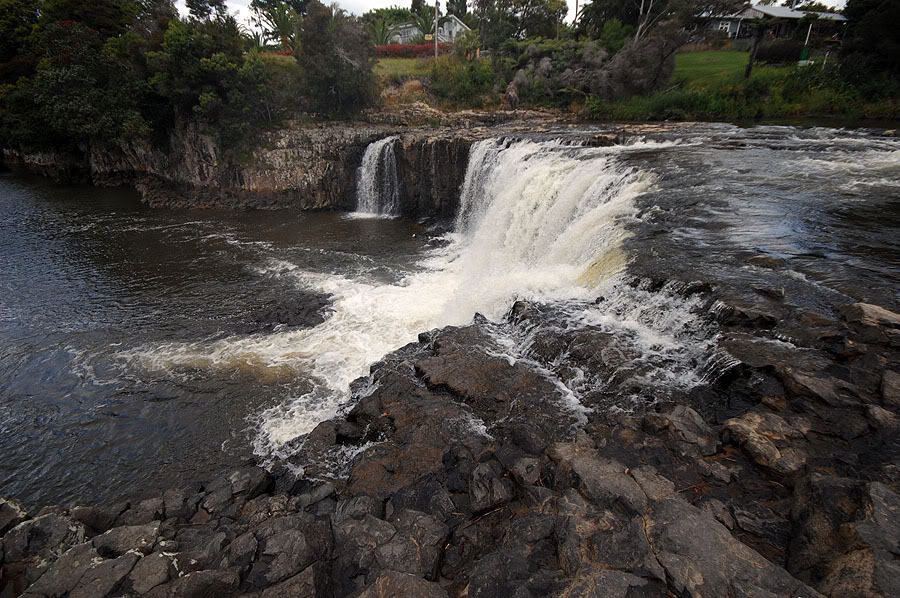 in the distance was a campground that looked a bit too civilized for my taste ....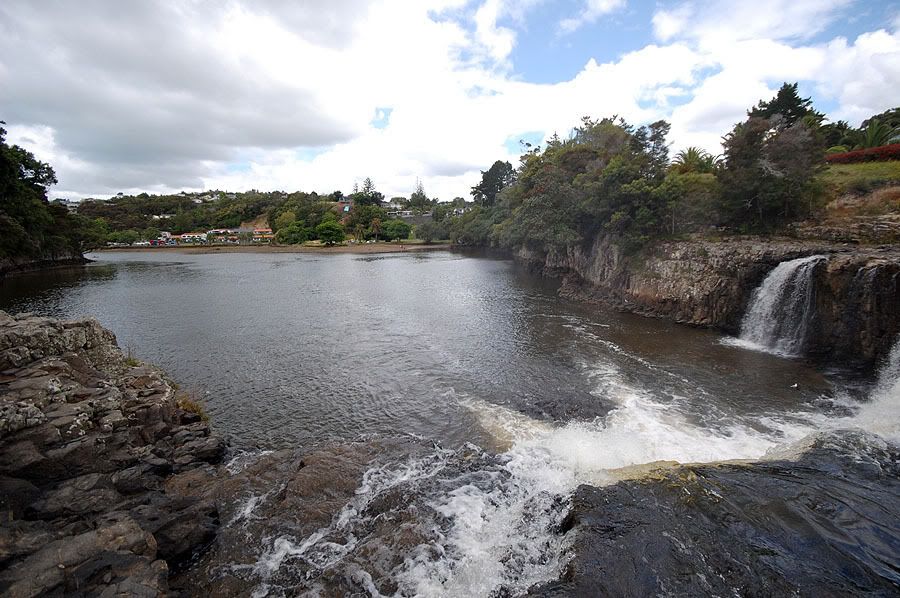 so after taking some pictures in between the tourist buses I headed back into Paihia and my back started burning for no reason - it turned out to be a bee that had found its way in behind me and also wasn't too happy with the situation .
I wasn't too sure what effect the sting would have on me and decided that since it was already 3 pm I may as well splash out and stay in a 'luxury' campsite - the one I had seen from the top of the falls .

The first night at the lakes cost $20 to camp- no hot water , the second night at spirits bay was a $7 fee deposited via an envelope into a box at the entrance and interestingly this place was only $18 for the night - $9.70 for one hour wireless internet [ vista on my laptop didn't want to connect so I used their desktop and extremely small screen ] .
talk about luxury ! compared to what I had been through that is . Hot water , swimming pool , kayaks , bar , restaurant - hamburger and chips for dinner...... I'm not getting soft ! it was either something I ate or the bee sting but I had quite bad chest pains for a while and decided that eating/bathing/swimming in this more luxurious camp would be my medical treatment ...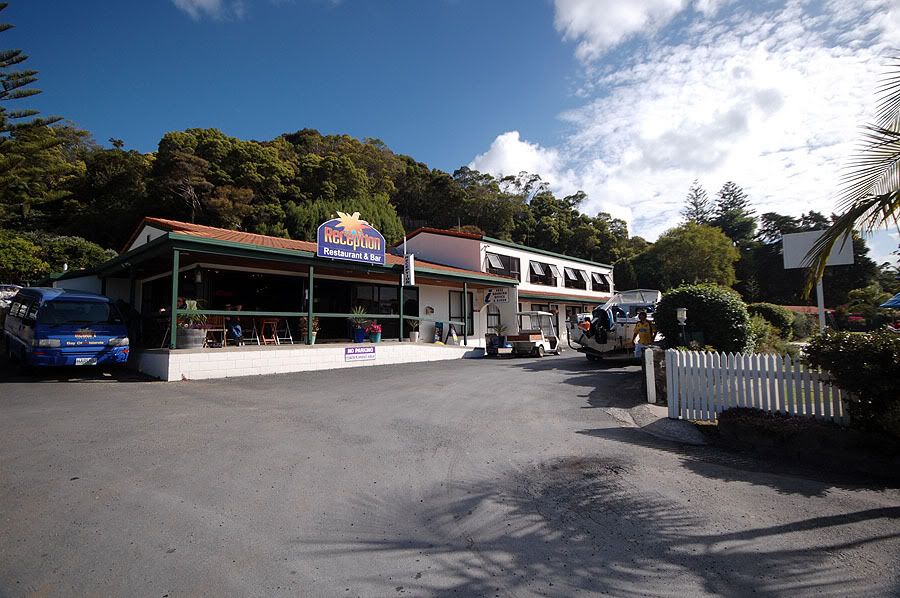 ---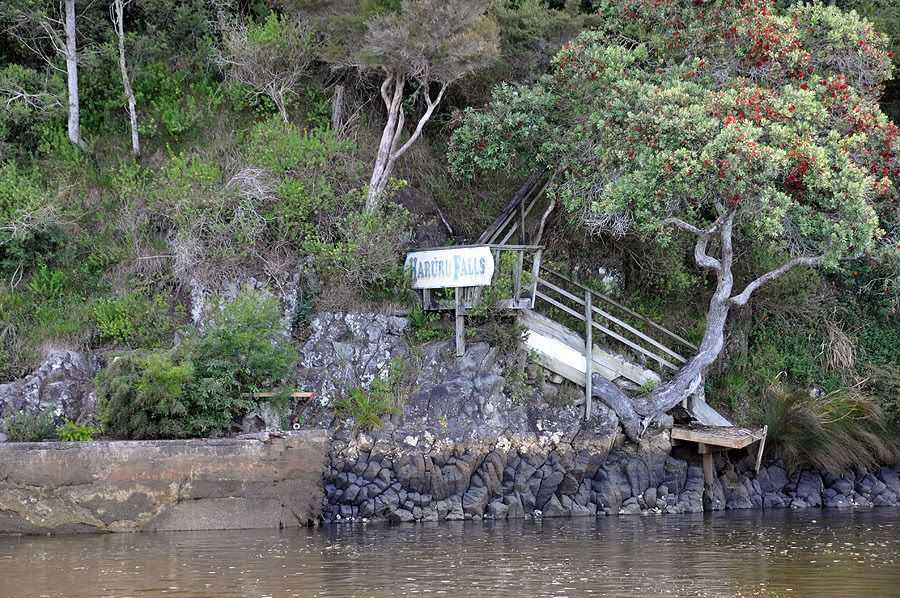 and a shot of the falls after sunset ...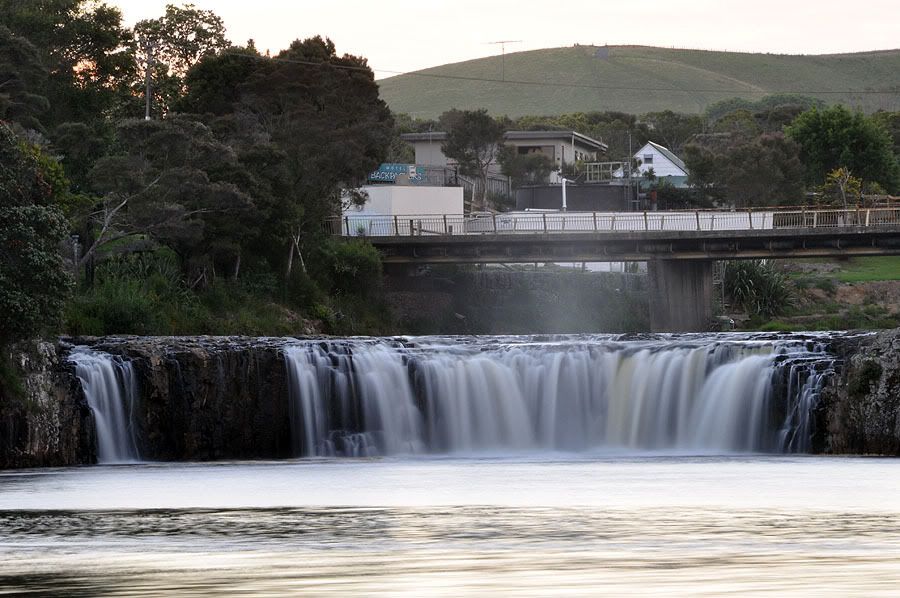 The last day the scenery was very much the same and I decided to head straight home only stopping for a few snapshots from this lookout before Auckland ....